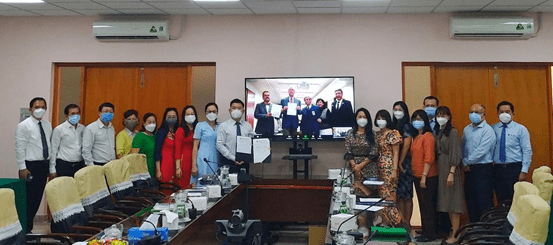 SIGNING CEREMONY FOR THE SECOND MOU BETWEEN TEXAS TECH UNIVERSITY HEALTH SCIENCES CENTER, EL PASO AND PHAM NGOC THACH UNIVERSITY OF MEDICINE
On December 21st, 2021, Pham Ngoc Thach University of Medicine (PNTU) signed the 2nd Memorandum of Understanding (MOU) online with Texas Tech University Health Sciences Center, El Paso (TTUHSC).
The signing ceremony was chaired by Assoc. Prof. Nguyen Thanh Hiep, MD, PhD – Rector of PNTU, and the participation of the Leaders of other departments of the school. On the side of TTUHSC, the ceremony was attended by Dr. Richard A. Lange, MD, MBA – President of TTUHSC, Dr. Jose Manuel de la Rosa, MD – Vice President for Outreach and Community Engagement, Professor Hoi Ho, MD – Director of the Collaborative Educational Program, Kim Tuyen Ho, Pharm D, BCPS – Co-Director of the Collaborative Educational Program, along with other representatives of TTUHSC.
The 2nd MOU was built on the basis of the MOU signed on January 12th, 2017 to start the Advanced Faculty Development Program, including the following contents: Outcome-based Medical Education, Licensing Examination, Program and Curriculum for Simulation Center, Standards and Criteria of US-recognized medical accrediting organizations.
Assoc. Prof. Nguyen Thanh Hiep, MD, PhD – Rector of PNTU made a couple of remarks to open the signing ceremony. He also expressed gratitude to Prof. Hoi Ho and Kim Tuyen Ho for their mentoring and dedicated support, bringing opportunities for long-term cooperation to both universities so that PNTU has had certain achievements.
In the signing ceremony, Prof. Ho highlighted two major successes of PNTU in recent years, namely the establishment of the Faculty Development Unit (FDU) to continue the Collaborative Educational Program (CEP) and the establishment of the Center for Elaboration Competency and Innovation in Clinical Simulation (CECICS). Prof. Ho congratulated PNTU as well as CECICS on their success in obtaining the SSH Provisional Accreditation and the excellence report of SSH in the application for full accreditation of Core, Teaching, and Assessment. Dr. Lange and Dr. Manuel de la Rosa also shared the joy of cooperation and wished PNTU to grow stronger.

Dr. Nguyen Ngoc Phuong Thu – Director of CECICS shared that it was the support of the school Board of Rectors, the guidance and encouragement of Prof. Ho, the consensus and efforts of all employees that CECICS could overcome many difficulties and be successful as today.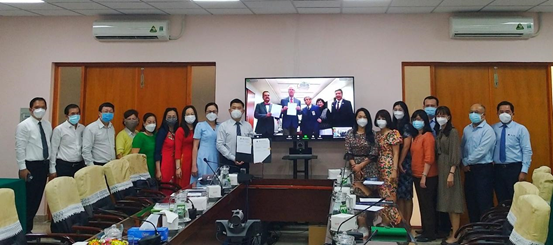 The signed MOU has officially opened a new stage of development for PNTU as well as CECICS. The upcoming goals may be more difficult, but with the support from the school Board of Rectors, Leaders of other departments, and the dedicated guidance of Prof. Ho, PNTU can achieve these goals and grow stronger.